One does not have to be an economist or computer scientist to understand how the digital business models of tech giants have reordered our society and culture.
But we sometimes struggle to understand the mechanisms for how this happens.
We can start with ourselves and our relationships to our smartphones or other objects that are digitally connected.
The Data Talisman: A digital object that becomes sacred in a globally connected society, serving as an emblem for how we orient and organize our interactions with each other through the giving and receiving of data.
From the Greek word "telein", which means "to initiate into the mysteries," Talismans are objects considered to possess magical powers to bring good luck or avert evils, disease, or death.
A Data Talisman is not just an interface or device. A Data Talisman may not even be collecting human data, or used by humans. But the data collected through the Data Talismans we design into our personal, civic, and commercial lives feed new business models that change our relationships with each other.
Here is a quick field guide.
Talisman Format
Physical / Digital
Data Talismans can be obvious or not so obvious in our lives. Data Talismans come in two forms:
Physical Data Talismans: The iPhone is the ultimate Mega Data Talisman because it's both taken over our daily rituals and interactions, and it conveys a certain status if you can afford one.
Digital Interface Data Talismans: What's different about our lives today is that we often treat software and digital interfaces with the same level of devotion and fear as the objects themselves. Just look at the use of TikTok among middle school kids in the US or the banning of TikTok by the US Army, US Navy, and the government of Indi
Data Transfer:
Active / Passive
Data is given and received with different levels of awareness and involvement:
Actively: You say, "Alexa, play Hamilton" to your Amazon Echo.
Passively: You are vaguely aware that it happens but you're not deliberately pushing a button at the moment of data transmission, like when your FitBit counts your steps.
Data Awareness:
Conscious / Unconscious
Consciously: You have intent, like when you send a Tweet on Twitter.
Unconsciously: You may not know how it is happening, like when you are in the emergency room on your Pixel phone, researching symptoms on WebMD, and you see an ad for a local personal injury lawyer. (Your location data was collected by the WeatherBug app and brokered to an advertising agency).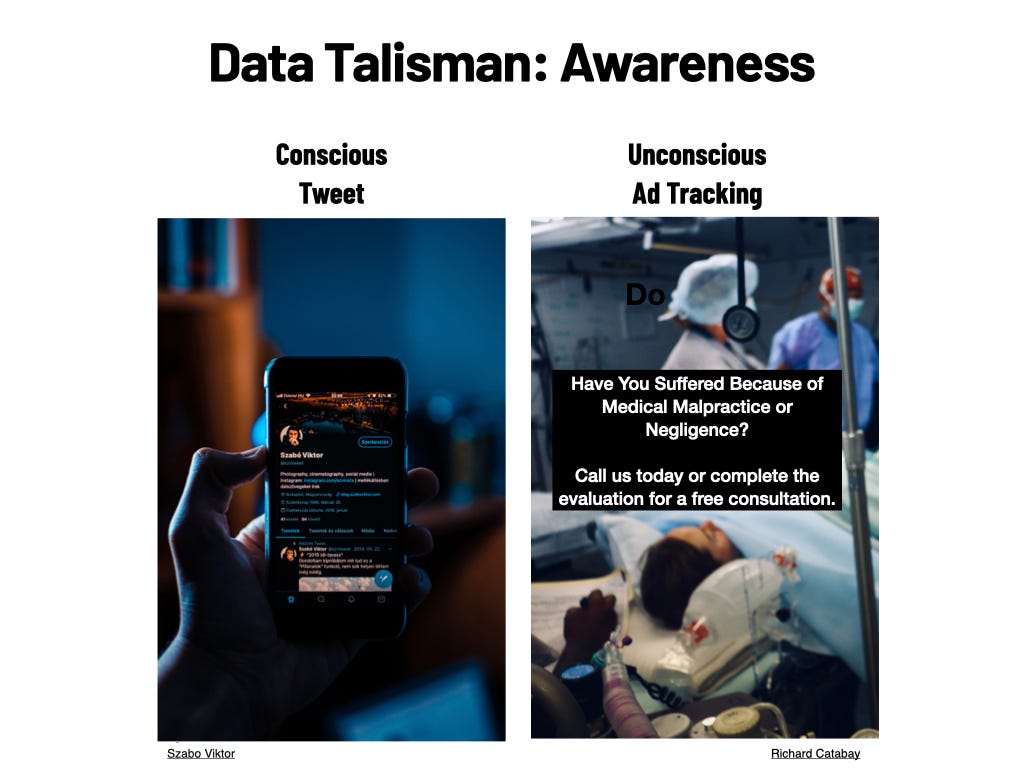 Data Input:
Touch / Sight / Speaking / Motion / Fluids / Whole Body / Other
Data is given and received using different parts and senses of the body, and sometimes no human is involved.
Sight: Your iris unlocks your Samsung Galaxy S9+ phone.
Voice: You ask Siri for the time.
Face: You train your Nest Hello video doorbell to read your face for access to your house.
Motion: Your Oral B connected toothbrush sends your brushing motion data to their cloud servers then to a companion app to tell you how to brush your teeth.
Whole Body: Your Withings scale tracks your weight gain or loss and sends the data to a cloud server to be accessed on a companion app.
Fluids: You send a nasal swab to EverlyWell to test for SARS-CoV-2 RNA and receive a diagnosis by email.
Other: Many new Data Talismans do not even track human inputs. The Weather Underground's Purple Air measures air pollution. Verizon's Intelligent Track and Trace app uses sensors and thermal cameras to measure the temperature and location of oysters in the supply chain.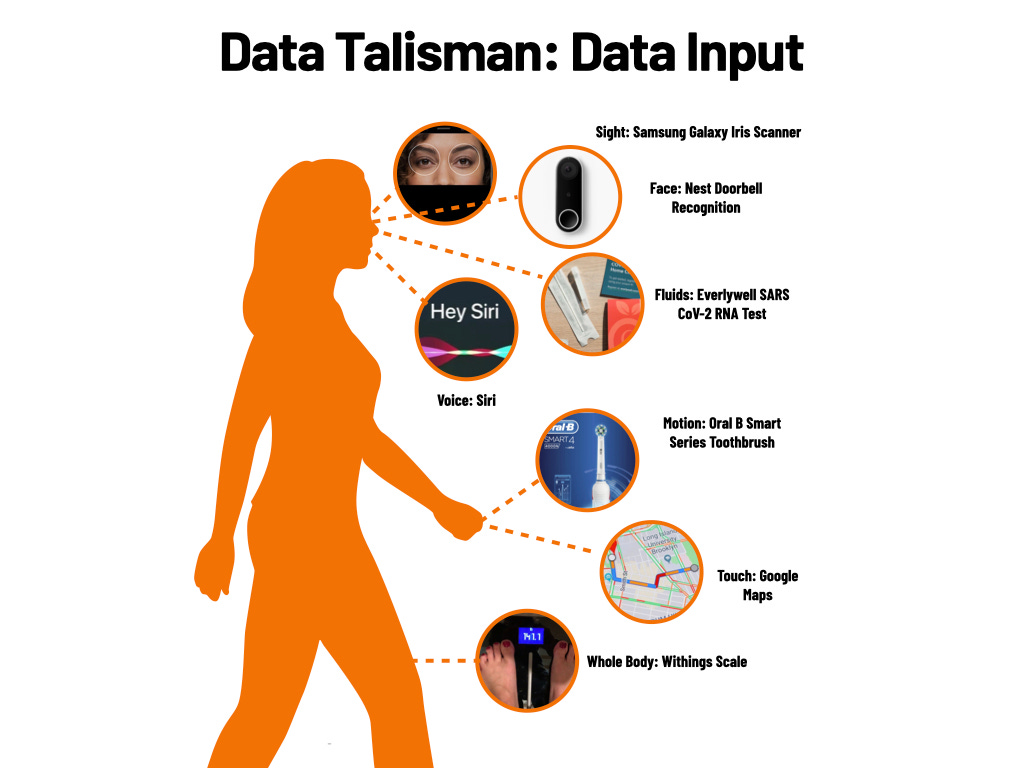 Role in Society
Personal / Business / Civic / ShapeShifters
The most complex challenge in understanding Data Talismans is to classify their role in our lives because many Data Talismans play multiple roles.
Personal: The Ōura ring tracks your body's signals while you are sleeping then provides insights for wellness and performance through a companion app.
Business: John Deere tractors collect weather data to give more predictability to farmers which they can view on their SeedStar™ 4HP monitoring tablet and interface.
Civic: Axon provides body video cameras to police departments and sells "evidence as a service" to governments for police departments, legal departments, and citizens to access video footage.
Shapeshifters:
These Data Talismans show up in one primary role, often as useful consumer devices and apps, while the data is de-identified and shared with other companies and governments.
The Strava running and cycling app data fees into Strava Metro software sold to cities for urban planning.
Livongo provides care support, tools, and guidance to people with diabetes paid for by insurance. Patients use blood on test strips to input their blood glucose readings into a connected device. Diabetes care management programs are delivered in partnership with health insurance companies like United Healthcare or health systems like Mount Sinai. De-identified insights are then sold to pharma companies like Lilly.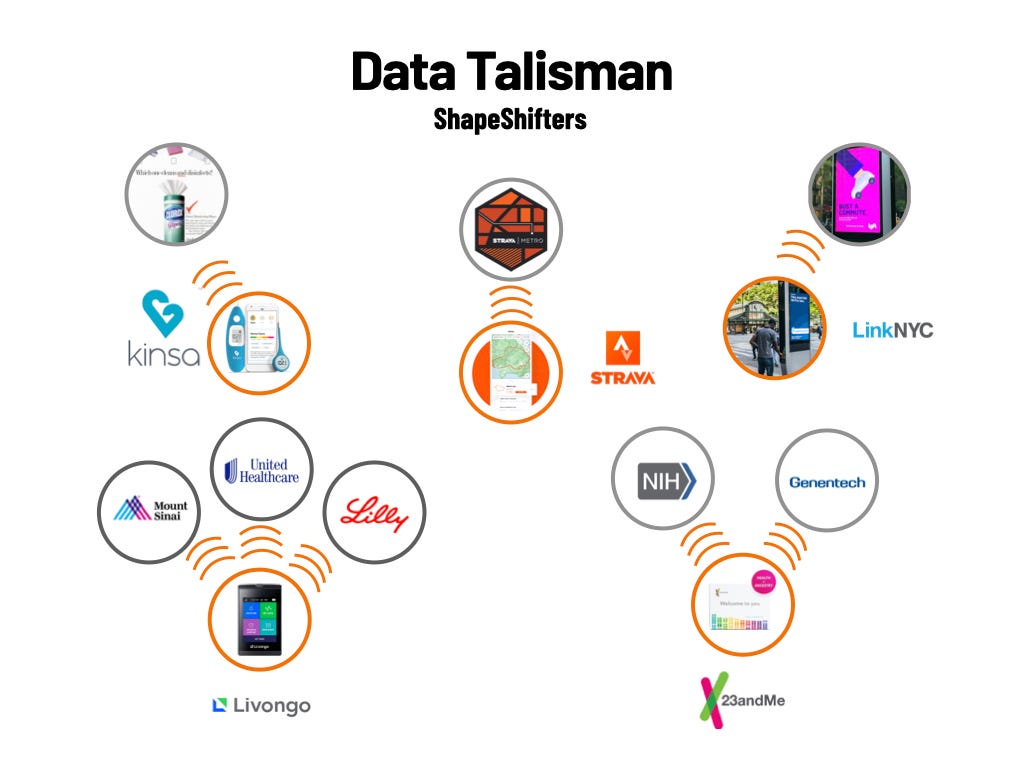 LinkNYC provides free Wifi hotspots and calling on their display kiosks, collects video footage to protect against vandalism, and sells advertising to companies.
23andMe provides genetic testing data through saliva swabs in-home test kits and a companion web app that provides health and ancestry information. The company also contracts with pharmaceutical companies like Genentech and receives grants from the National Institutes of Health to sequence and analyze genetic data.
Citizen transcribes audio from police scanner data into an app used by local residents to track crime and civic activity like protests. We don't yet know how Citizen will make use of this data to other companies or advertisers, because they are pre-business-model.
Kinsa smart thermometers are sold for consumer use, schools, and companies. While they became better known for sharing de-identified severe data with governments to predict the spread of COVID19, they also sell "illness data" to brands like Clorox and other companies that would benefit from knowing who has a fever.
Local governments subsidize bulk purchases of Ring security systems and then police departments have access to more video footage.
---
By now you might be starting to feel creeped out. That is not my deliberate intent. Pay attention to how you feel when you read about these types of companies and how they use your data – this is your access point to understanding digital business models.
I'm a Business Model Designer, teacher, and consultant. I find that we make the study of digital business models way too complex. This is partially because the companies themselves do benefit from being opaque and obscure, as it keeps the regulators at bay.
As Shoshana Zuboff describes when writing about her book The Age of Surveillance Capitalism that the success of these companies and their devices "depends upon one-way-mirror operations engineered for our ignorance and wrapped in a fog of misdirection, euphemism and mendacity."
I found Zuboff's book useful for its deep history of the formation of the information economy and its early compromises adopting advertising and data services business models. But as a teacher and business model designer, it left me paralyzed. Not all companies start out wanting to be parasites or to destroy democracy.
But we need to have a better understanding of how digital business models work because tech giants have gained power over the many laws that govern our society and have changed our interactions and relationships.
I'm writing business model design to encourage praxis: using your own observational powers to enact, embody, or realize better decisions about these Data Talismans, or to design better business models.
---
Here is the roundup of Data Talismans mentioned, their owners, and business models.
iPhone / Apple / Device Sales, Two-Sided App Marketplace, App Services
TikTok / ByteTance / Advertising
Alexa + Echo / Amazon / Device Sales
Pixel / Alphabet and HTC / Device Sales, Free Android OS to Collect Data
WebMD / Private Equity Group KKR / Advertising
WeatherBug / Ground Truth / Location-based-ads
Galaxy S9+ / Samsung / Device Sales, App Marketplace
Siri / Apple / Device Sales, Two-Sided App Marketplace, App Services
Nest Bell / Alphabet / Device Sales, Software-as-a-Service
Oral B / P&G / Retail and Direct-to-Consumer Sales
Withings / Founder re-purchased from Nokia / Device Sales, Data Services
EverlyWell / Venture-Backed $50 MM / FDA-Approved Diagnostic Kit Sales
PurpleAir / The Weather Underground / IBM / Device Sales
Track and Trace IoT / Verizon / Solution Sales
Ōura / Venture-Backed $76.5 MM / Device Sales
SeedStar Hp4 / John Deere / Device-as-a-Service
Axon Body Cam / Axon (formerly named Taser) / Device Sales and Device-as-a-Service
Strava and Strava Metro / Venture-Backed $41.9 MM / Free, Subscription App + SaaS
Livongo / new IPO / Insurance-Reimbursed Care Management, Data Services
United Healthcare / Insurance Reimbursement
Mount Sinai / Fee-for-Service, Value-Based Care
Lilly / Pharmaceutical Sales
Link NYC / Intersection / Advertising
23andMe / Ancestry and Health Kit Sales / Data-as-a-Service
Genentech / Pharmaceutical Sales
NHS / Government Health System
Citizen / Venture-Backed $60 MM / Pre-Business Model
Kinsa / Venture-Backed $29.2 MM / FDA Approved Device Sales / Data-as-a-Service
Which one of these Data Talismans do you find in your life? The best starting point to understand digital business models is to look for the Data Talismans in your hand, on your body, in your living room, on our main street, and in your workplace. When you do, tell me what you see.